Who is Sharyn Doolan?
I'm the FVO who'd love to create a bit of magic for you from behind the microphone…
So, who am I?
I'm an Aussie!  I was born in Melbourne.  A fabulous cosmopolitan city . The food and fashions are wonderful.
So are the people!
As you can guess with a surname of Doolan, there's Celtic and English blood flowing through my veins… (as well as a Heinz variety of other nationalities)…
Well…. I got adopted by all kinds of wonderful people! The Italians, Greeks, Jews, Croatians, Chinese…
And I loved it!!!  I reckon that's why I talk with my hands!  You aught to see me behind the mic, it's like this weird workout… hands going in all directions!!
By the way, one of the most beautiful languages I know – is Sign Language – for the deaf.
I learned it, to chat with friends.  lol… So my hand waving does make sense – sometimes   🙂
Anyhoo… I left Melbourne to venture north – to the warmer parts of the world – Brisbane in Queensland.
Or as the locals say – 'Gods Country.'
It's truly beautiful here.
I'm in a quiet suburb of Brisbane. I live here with my parter David, two dogs and two cats.
Here's the dogs outside my studio door…. awwwww….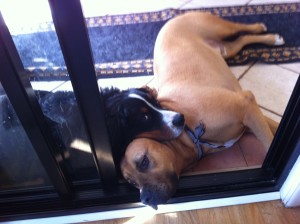 Life is good! I am grateful and happy. I love my life.
So…How did I get to do Voice Overs?
I worked as a Radio Announcer for about 18 years.
Did all kinds of commercial radio gigs… from 'old time rock n roll' to 'talkback' and pretty much everything else in between!
Had a great time!!
I also did, what I regard as,  an 18 year apprenticeship for Voice Overs.
It was part of the job to read ads for the radio station… I freelanced as well…
Gosh…I can still remember my first VO.
It was for a fashion store called 'Stilleto'
The ad was a sexy kind of husky read… boy it stood out on the radio!
I got such a kick when I heard it.
I still love hearing my ads on TV and the Radio… and gotta say, it's the funniest thing to ring a business and hear 'me' talking to me, from their message on hold.
So this is what I do now…  I'm a full time professional Australian Voice Artist.
I have built a fabulous soundproof studio in my home….
So in the mornings, I walk out of the bedroom, make a cup of tea… and I'm at work.  In my JAMMIES!!!
lol… Love it!!
I love my job and I'd love to work with you!!
I'm very versatile…I'll  be a kid crying in the corner – one minute – and the next a Grandmother talking about a lovely retirement village… and a few minutes later, teaching Apple & Microsoft software…aviation safety, or occupational health and safety in an E-Learning project…
I promise to bring your script to life too…
So, what would you like Voiced?
It doesn't matter if you have  5 second tag for a TVC,
or an E-Learning project with 30 thousand words or more…
I promise to deliver a fantastic session… and a fantastic VO directly to you.
Thanks for checking out my details…
Hope you like what you hear?
Have you had a listen to the demo's?  Click here.